Stamps.com Blog
Get the latest information on the mailing and shipping industry.
February 10th, 2017
Comments off
Have questions about the 2017 USPS Postage Rate changes? We have answers!
When did the new USPS rates start?
The 2017 USPS postage rate increase went into effect on Sunday, January 22, 2017.
Are Forever Stamps purchased before January 22, 2017 still valid?
Yes, Forever Stamps purchased from the Post Office (or another location) remain valid. You can still use Forever Stamps to mail a one-ounce First-Class Mail letter, even if purchased before January 22.
Can I buy the $0.46 Metered Rate postage stamps at the Post Office?
No, the Metered Rate $0.46 postage stamps can only be printed using an approved PC Postage/online postage vendor such as Stamps.com or through a postage meter. The Metered Rate $0.46 stamps cannot be purchased at the Post Office. Learn more about saving with Metered Mail rates here: http://blog.stamps.com/2017/02/02/save-3-cents-printing-first-class-mail-letters-online/
How do I get Commercial Base discounts for printing postage online?
You automatically qualify for Commercial Base pricing if you print shipping labels using Stamps.com (or any online postage vendor). These rates are automatically calculated when you print postage.
Did online postage rates for any international mail classes increase for 2017?
There is no rate increase for Priority Mail Express International, Priority Mail International or First Class Package International Service in 2017, if you buy postage online using Stamps.com (or any online postage vendor).
Can anyone use Regional Rate Boxes or are they only for large quantity shippers?
Anyone can ship using Regional Rate Boxes, regardless of the number of packages shipped. If you buy postage for a Regional Rate Box at the Post Office, you will have to pay and additional $2.25 for Zones 1-4 and $1.00 for Zones 5-9.
Did online postage rates for Parcel Select Ground decrease?
Yes, for certain weight and zone combinations, the price for Parcel Select Ground will be lower than what it was in 2016. Most of these rate decreases are zone specific for packages weighing between 2 pounds and 5 pounds.
When do I need to include that plastic (Form 2976-E) envelope on my package for the Customs Forms?
The USPS Form 2976-A Customs Form includes four copies of the standard Customs Form and must be inserted into the Form 2976-E envelope. You would attach this on Priority Mail International or Priority Mail Express International packages, but you can use the USPS 2976 Customs Form (1 page) for First-Class Package International Service packages.
I am a Stamps.com customer. Do I need to take any actions to get the new rates?
No, if you are a Stamps.com customer, you do not need to take any action. Stamps.com automatically updated all USPS rates inside the software and web-based version (Stamps.com Online) on Sunday, January 22, 2017.
February 2nd, 2017
Comments off
Since its introduction in 2014, Metered Mail rates have offered businesses of all sizes a way to save using Online Postage. Metered Mail rates apply to First-Class Mail® Letter postage printed through USPS licensed software (such as Stamps.com) or using a postage meter. Online Postage costs the USPS significantly less than traditional postage stamps, and the savings are passed on to customers through Metered Mail rates.
Metered Mail Savings Are Bigger Than Ever – Save 3 Cents on Every Letter!
With the recent 2017 USPS Postage Rate changes that started on January 22, 2017, single-piece letter senders can save even more using Meter Mail as opposed to retail (or Post Office) rates. The Metered Mail rate for one-ounce First-Class Mail® Letters has dropped from $0.465 to $0.46, while the retail rate has increased from $0.47 to $0.49. These new rates save businesses $0.03, or six percent, on one-ounce First-Class Mail® Letters when using Online Postage. 2017 marks the first time ever that the Metered Mail savings have exceeded $0.01. For businesses looking to reduce postage cost, there has never been a better time to switch to Online Postage.
New Metered Mail Rates Are Built In To Stamps.com
Stamps.com customers automatically receive the new discounted Metered Mail rate. When printing Online Postage for First-Class Mail® Letters, customers can select the Metered Mail rate or manually enter a stamp amount. In addition to Metered Mail, Stamps.com has also been updated with every USPS Postage Rate for 2017.
January 23rd, 2017
Comments off
New USPS postage rates went into effect Sunday, January 22, 2017. Wondering if there's anything you need to do to get these updated rates when mailing and shipping with Stamps.com? The good news is, you're all set! All postage printed through Stamps.com will reflect the new 2017 USPS rates. Our mailing and shipping solutions—both the software AND our Stamps.com Online web-based version—are designed to reflect current USPS pricing automatically, which means no service interruptions for you.
Here's a summary of the 2017 postage rate increase for Commercial Base (online postage) prices by mail class: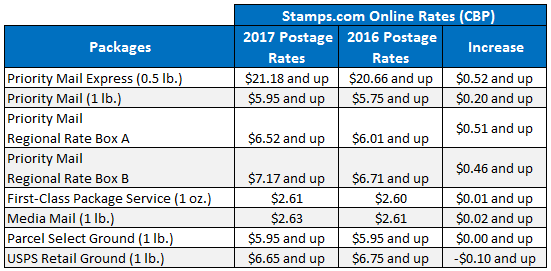 Get more info on the 2017 USPS postage rate increase.
January 16th, 2017
Comments off
Effective January 22, 2017, the U.S. Postal Service will implement new rates for domestic and international mail classes as well as its Special Services. Want to learn more about these changes and how they may impact your mailing and shipping? We've created a new guide for our customers detailing the USPS rate and service change for each mail class. This Postage Rate Increase Guide includes side-by-side rate comparisons so you know how much you'll pay on and after January 22, whether you pay retail rates or discounted Stamps.com rates. This guide also includes general shipping suggestions and a Frequently Asked Questions page to help answer any questions you might have about this rate increase.

This guide includes 2017 postage rates for:
First-Class Mail
Priority Mail Express
USPS Retail Ground
Medial Mail
Global Express Guaranteed
Priority Mail International
USPS Special Services
Get more info on the 2017 USPS postage rate increase.
January 13th, 2017
Comments off
You have a package that needs to go to San Juan, Bayamón or Ponce. Not to worry: Stamps.com can offer you guidance on how to best format your addresses for mailpieces headed to Puerto Rico.
Puerto Rican addresses are considered domestic addresses with the state code of "PR."  You can use the Domestic options within the Stamps.com platform (Packages, Stamps, and Envelopes).  You are not required to include a customs form.
Urbanizations
One of most important things to remember is that Puerto Rican addresses use a unique identifier called the urbanization. An urbanization (urbanización) is a specific sector of a city, town or residential development. Using the urbanization name reduces ambiguity and the chance that your mail will be incorrectly sent or returned to you. Sometimes the urbanization name will replace the street name entirely. Examples of urbanization names, which can vary considerably, include Urbanización Valencia, Urb. Las Delicias, Mansiones de Ponce, Jardines Paseo del Jobo, and Asociación Residentes El Plantio.
As you might have noticed above, urbanizations sometimes use the abbreviation of "URB."  However, you may also run across terms like "EXTENSIÓN," "BARRIADA," "ALTURAS," "PARQUE,"  "ESTANCIAS," and "QUINTAS" to describe an urbanization. The good news is that the powerful Stamps.com software will recognize cases when the address needs an urbanization name and provide an option to you to select a more specific address.
Street Name Formatting
Keep in mind that the Spanish-language terminology as well as the formatting order will be different than what you see in English-language addresses. You'll see terms like CALLE ("Street") or AVENIDA ("Avenue") placed before the street number. For example, instead of "123 Main Street," you'll see "CALLE PRINCIPAL 123." In accordance with USPS guidelines, do not translate the Spanish street name terms – in other words, don't change "Calle" to "Street." As an exception to this rule on translating Spanish terms, please use the term "PO BOX" instead of the various Spanish-language equivalents (CALLER, CALL BOX, GPO BOX, PO BOX S–1190, APTDO, APARTADO, BOX or BUZÓN). 
If there is a house number, place it before the street name. For example, if the house number is B-31, write the address as "B-31 CALLE PRINCIPAL 123," not as "CALLE PRINCIPAL 123 B-31."
 The Value of Using Stamps.com
Shipping to Puerto Rico is easy with Stamps.com! Since Puerto Rico is considered a domestic destination, you can use the same Priority Mail and Priority Mail Express rates and packaging as normal. What's more, with Stamps.com you'll receive the discounted Commercial Base rate, so you'll save when you print postage with us. We also allow you to easily order free USPS supplies like boxes and envelopes from the Stamps.com Store. With our Address Book feature, you can also save Puerto Rican mailing address for easy future use!
Additional Resources