Stamps.com Blog
Get the latest information on the mailing and shipping industry.
October 7th, 2019
Comments off
The USPS has announced the 2019 Holiday shipping deadlines to assure package delivery by December 24th. Be sure to mail by these deadlines so your packages arrive on time.
Domestic Holiday Mail-By Deadlines
| | |
| --- | --- |
| Domestic Mail Services | Mail-By Date |
| First-Class Mail | Dec 20 |
| Priority Mail | Dec 21 |
| Priority Mail Express | Dec 23 |
Alaska and Hawaii Holiday Mail-By Deadlines
| | | | |
| --- | --- | --- | --- |
| Mail Addressed To | First-Class Mail | Priority Mail | Priority Mail Express |
| Alaska | Dec 18 | Dec 19 | Dec 21 |
| Hawaii | Dec 19 | Dec 19 | Dec 21 |
Military Address (APO/FPO/DPO) Holiday Mail-By Deadlines
| | | | |
| --- | --- | --- | --- |
| Military Mail Addressed To/From | First-Class Mail | Priority Mail | Priority Mail Express |
| AE ZIPs 090-092 | Dec 11 | Dec 11 | Dec 18 |
| AE ZIP 093 | Dec 9 | Dec 9 | N/A |
| AE ZIPs 094-098 | Dec 11 | Dec 11 | Dec 18 |
| AA ZIP 340 | Dec 11 | Dec 11 | Dec 18 |
| AP Zips 962-966 | Dec 11 | Dec 11 | Dec 18 |
International Holiday Mail-By Deadlines
| | | | |
| --- | --- | --- | --- |
| Addressed To | First-Class International | Priority Mail International | Priority Mail Express International |
| Africa | Nov 30 | Nov 30 | Dec 7 |
| Asia/Pacific Rim | Dec 7 | Dec 7 | Dec 14 |
| Australia/New Zealand | Dec 7 | Dec 7 | Dec 14 |
| Canada | Dec 7 | Dec 7 | Dec 16 |
| Caribbean | Dec 7 | Dec 7 | Dec 14 |
| Central & South America | Nov 30 | Nov 30 | Dec 7 |
| Mexico | Dec 7 | Dec 7 | Dec 14 |
| Europe | Dec 7 | Dec 9 | Dec 14 |
| Middle East | Dec 7 | Dec 9 | Dec 14 |
September 26th, 2019
Comments off
Have you ever noticed those little picture ads near the top of a Google search page? Those are Google Shopping ads. They're unique in what they can do – and great for increasing online sales. So, let's run down a few ways to make the absolute most of a Google Shopping campaign.
Optimizing Your Google Shopping Data Feed
To begin your Google Shopping campaign, you'll need to upload a data feed in CSV or XML format. Your data feed document should have all the info that appears on your ads: Price, Taxes, Title, Description, Product URL and Image URL. Depending on what kind of product you have, there may be optional fields you can add. For example, you can add color and size for apparel items.
Which additional details need to be added? Make sure your feed is optimized with all the relevant details. Imagine if someone asked if you wanted to buy a "Sweater"? The first thing you'd ask is… what kind? Then if you liked the description of the sweater, you'd want to know if they have it in your size.
The important thing to remember here is that unless the product info is part of your data feed, it won't make it to your ad. Give your prospects everything they need to buy.
The Right Titles and Descriptions for Your Shopping Ads
Now, let's look at a few ways to juice up your ad. Make sure to include relevant keywords in the title and description, which will help your product get matched to a query. It's not enough to just list the model number, which will only attract people looking for that exact model. You'll be losing out on a lot of potential customers.
Let's play a little good product title/bad product title to get it right:
Bad product title – "Black Shoes"
Good product title – "Black High Heel Pumps – Size 8 – Women's Shoes"
See how much more targeted the second option is? A good title has specific keywords like "high heels" and "pumps" to perfectly match anyone looking for a pair of shoes like that.
Next, be sure your description also has keywords, plus the selling points that would make someone want to buy. The description is where you can put your best selling points. Think of it this way… the title is the "what," and the description is the "why." Once someone clicks through, give them your best sales pitch to convince them to buy.
Successful Bidding Strategies for Google Shopping Ads
Google Shopping works the same way as an auction. When a user types in a search like "floral throw pillows," Google checks all of the prices bidders (retailers) are willing to pay. The highest bidders will win the opportunity to be shown to the consumer looking for "floral throw pillows." That's how the system works, now we're going to give you some tips to make the system work for you.
Don't Set the Same Bid Across Your Campaign
One of the biggest mistakes is to blanket the same bid across an entire campaign. Determine the bid by looking at the value and profit margin of each product.
Start with Best-Sellers
You'll have enough variables to deal with when beginning a Google Shopping campaign. Start with your best products, where you have a strong competitive advantage. Some products with low profit margins may never make sense to include in your feed.
Use Custom Labels to Create Bid Groups
Custom labels can be applied to your data feed to create price groupings. Try putting higher converting products together, and giving them all higher bids. Put lower bids on the group of products that don't convert as well.
Optimizing your campaign is a continual process, but following these tips will give you a big head start.
September 13th, 2019
Comments off

Nervous about the U.S. leaving the Universal Postal Union in October? Wondering how you'll make your international deliveries for the holidays?
Don't worry, Stamps.com has international shipping options for online retailers of all sizes. Our new GlobalPost international shipping services leverages partnerships with international postal operators as well as commercial carriers to offer worldwide delivery.
These international services are not reliant on U.S. relationships with the UPU and will ensure that businesses can continue to ship internationally without disruption, while still receiving similar transit times, customs clearances and competitive rates!
Economy International
Standard International
Weight Limit per package
4.4 lbs.
Varies by country
Countries Served
Over 200
36
Package Types
Flats up to 16 oz.
Packages up to 4.4 lbs.
Packages up to 66 lbs.
Transit Time
Varies
6-10 days
Tracking
Door-to-Country
Door-to-Door
Max Value of Goods
$400
$400
Free Coverage
Up to $100 against loss or damage, plus shipping costs
Up to $100 against loss or damage, plus shipping costs
Duties & Taxes
Paid by recipient
Paid by recipient
GlobalPost services reach over 200 countries and territories and includes features not found in traditional international postal services, including:
Global Address Verification: Improve deliverability with real-time address verification
No Customs Forms: Send Customs electronically – no forms to print
Ship Merchandise in Flats: Save money with international flats/large envelopes
Instant Refunds: No more tracking refund requests that can take up to 2 weeks
Free Pick-Up Service: Schedule pick-ups when it's convenient for you (select markets only)
Parcel Coverage: $100 Included
Avoid disruptions and uncertainty in your global shipping – sign-up for GlobalPost today! Visit GoGlobalPost.com or call 1-888-899-1255
September 10th, 2019
Comments off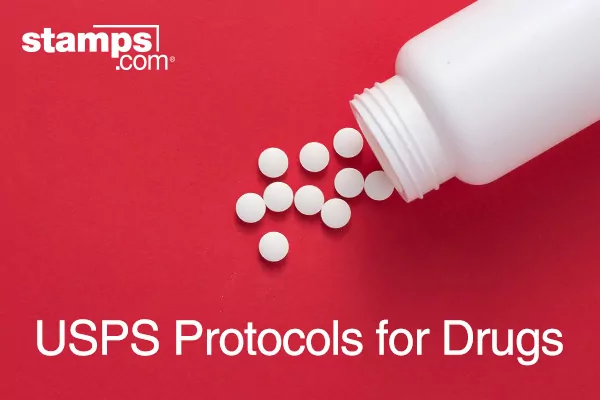 If you need to mail prescription drugs, you'll want to get to know federal and state laws about shipping these items before trying to ship them with the USPS. Here are the basics of mailing drugs via the USPS. You will need to be familiar with what is permitted, and what isn't, to avoid any legal issues.
Prescription Drugs
As the name implies, prescription drugs are not available except with a written order from a licensed medical provider. You are only permitted to mail prescription drugs via the USPS if you are a pharmacist or medical provider mailing such drugs to the patient they have been prescribed to. This means that without proper medical licensing you can receive prescription drugs, but you cannot, under any circumstance, mail them.
Over-the-Counter Drugs
Prescription drugs are only permitted to be sent via USPS under specific circumstances—but what about over-the-counter drugs?
Any drug that is available for retail without a prescription is considered an over-the-counter drug. Common examples of such drugs are mild pain-relief medicines and skin creams. Anyone can mail such drugs with the USPS as long as they comply with federal and state laws such as the Poison Prevention Packaging Act of 1970 and the Consumer Protection Safety Commission Requirements.
Controlled Substances
Controlled substances are drugs in which the federal government tightly controls. These substances are placed into five categories, or schedules, each with varying regulations and mailability. Some controlled substances are treated as prescription drugs—they can be mailed by medical professionals with the proper documentation. Other controlled substances are not mailable under any circumstances. The USPS takes the shipment of narcotics very seriously, and the Postal Inspection Service Prohibited Mail Narcotics program investigates shipments of illegal drugs through the mail and works closely with state, local, and federal law enforcement agencies to combat this illicit trade.
You cannot mail a controlled substance unless:
You and the person you are mailing the drugs to are registered with the Drug Enforcement Agency or are exempt from the registration requirement. (Law enforcement, civil defense workers, and members of the military do not need to register with the DEA).
You are participating in a federal mail-back program to dispose of such drugs and follow the mailing regulations for participation in the program.
You are a drug manufacturer or pharmacy owner who is filling a prescription containing narcotics.
You should be aware that anything used to take narcotics, such as pipes or syringes, cannot be mailed under current federal guidelines.
Rules for Packaging Drugs
Controlled substances must have inner packaging that is marked and sealed in accordance with the Controlled Substances Act in addition to providing information on the inner packaging about the prescription, such as the prescription number and the name and address of the pharmacy dispensing the drug. The outer wrapping of such packages must be plain and cannot contain any information identifying the package's contents.
Other drugs must be placed inside a plain wrapper or package.
Promotional samples of non-prescription drugs may have a brief description of the product on the outside of the package along with the words SAMPLES ENCLOSED.
It is important to follow all of these rules because mailing drugs in a non-allowed manner is considered a breach of federal law and can result in serious legal consequences. If a USPS inspector finds non-mailable drugs in a package presented for delivery, that worker is required to report it as well as reject the item for delivery.
August 28th, 2019
Comments off
If you're interested in selling high-profit items on eBay, you should definitely be frequenting estate sales. Part one of this multi-part series focused on the kitchen. Next stop? The garage!
Garages are filled with goodies just waiting to be snapped up by savvy sellers. The more disorganized the garage, the better. There's gold hiding in them thar piles!
Tools
First of all, focus on tools – especially vintage tools. Both modern and vintage tools can be worth quite a bit on the resale market. We recently bought a planer for $5 and sold it for over $400 on eBay. Tools made by brands such as Snap-on, Mac, and DEWALT are always in demand. Vintage "Made in America" hand tools such as crescent wrenches should be on your radar. Vintage axe heads are another favorite of ours.
Home Improvement Items
In addition, look for home improvement items. Higher-end faucets and sinks bring in the big bucks if they are new or almost new. And cabinet pulls can be sold in lots. At a recent yard sale, we purchased a $950 sink new in the box for $20 and sold it for $300. The man who sold it to us had won it at a Christmas party. (He worked for a home improvement company.) We didn't have to ship it because we had it listed as local pickup only.
Fly Fishing Gear
Oh, where to start? Americans love to fish, and fly fishing is all the rage! Look for newer gear by brands such as Scott, Sage, Echo, Thomas & Thomas, and G. Loomis. Old bamboo fly rods and vintage Fenwick poles are fan favorites (be sure to ship fishing rods in USPS mailing tubes). In addition, don't miss out on buying fly reels. They are easy to photograph, easy to sell, and easy to ship. Next, pay attention to vintage lures – the older the better. And don't miss the clothing produced by Simms and Filson. Use your phone to look up current selling prices.
New and Vintage Christmas Ornaments
While hunting for treasures, don't miss out on Christmas ornaments. Christmas ornaments sell year-round. Vintage ornaments in their original boxes are especially valuable. Modern ornaments are also in demand. Christopher Radko pieces, for example, are strong sellers. And be on the lookout for pieces made by Swarovski. Swarovski designs a new ornament for each and every year. These crystal masterpieces are hot property and can sell for hundreds of dollars. The most valuable Swarovskis are those in the original boxes with certificates of authenticity.
Automobile and Bicycle Parts
Finally, keep your eyes peeled for automobile and bicycle parts. Sourcing them can be a bit complicated, so be sure to research each piece before you buy it.
Yup. Estate sales can be full of amazing items just waiting to be flipped on eBay. So get in line early, and when the doors open, head for the garage!
See part one: Finding Profits At Estate Sales: The Kitchen
About the Author
Miriam Otto is an eBay blogger and credentialed teacher with 13 years' experience selling on the site. She was a frequent guest on eBay Radio and has participated in eBay seller panels and projects. Her blog, The eBay Life, is an all-in-one resource for eBay sellers.