Stamps.com Blog
Get the latest information on the mailing and shipping industry.
December 23rd, 2019
Comments off
Beginning January 1, 2020, all shipments to Brazil must include the recipient's Tax ID number on both the customs declarations and shipping labels. Brazil is implementing this new requirement to help ensure taxes are collected from resellers who purchase U.S. goods and resell them within Brazil at a profit. If you are selling to customers in Brazil it is essential that you collect their Tax ID at the time of sell—shipments missing the recipient's Tax ID will be subject to return, or even disposal, by Brazilian Customs.
Shipping and Customs Requirements
Regardless of mail class, the recipient's Tax ID must be visible on the shipping label and declared within the appropriate customs form. There are several Tax IDs that can be used when shipping to Brazil, including:
CPF – Individual Tax ID (format: 000.000.000-00)
CNPJ – Business Tax ID (format: 00.000.000/0000-00)
Passport Number
Shipping to Brazil with Stamps.com Online
If you are a Stamps.com customer, adding a Tax ID to your Brazilian shipment is simple. Typically when shipping to an individual in Brazil, the company field is left blank: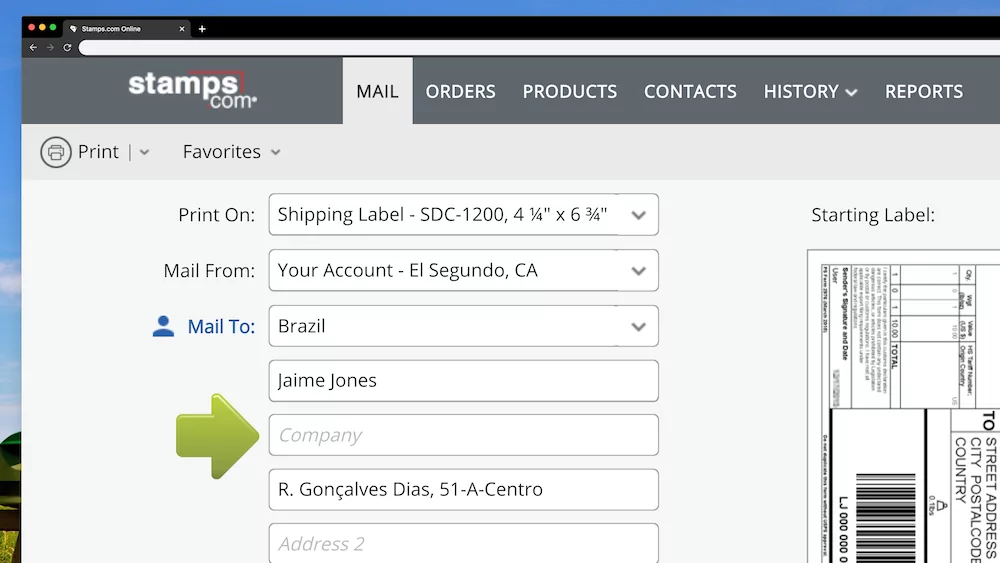 You can use this field to enter your recipient's Tax ID. We recommend using the prefix "CPF-" to indicate that you are using an Individual Tax ID.
If you are shipping to a business, enter the customer's Business Tax ID, followed by a slash and their business name.
Shipping to Brazil with Stamps.com Windows Software
If you use the Stamps.com Windows software the process of adding a Tax ID to your shipment is just as easy. Within the International Tab of the software simply include the recipient's Tax ID in the Delivery Address field under the recipient's name.
For Individual Tax IDs use the format "CPF-" followed by the ID number:
For Businesses enter the customer's Business Tax ID, followed by a slash and their business name:
December 9th, 2019
Comments off
There may be different reasons why you would need to ship cremated remains: you're a relative entrusted with transporting or distributing the remains of a loved one; you need to ensure that a pet cremation urn is safely sent back home; or you're in the death care business and your funeral home needs to transport cremated remains frequently. Whatever the reason may be, Stamps.com can help you make the process as painless as possible.
The first thing to know is that you can only use the USPS to ship cremated remains. Courier services like FedEx and UPS do not allow this. Therefore, you can use your powerful Stamps.com platform to ship cremated remains.
Preparing your package
The USPS allows for shipping cremated remains by Priority Mail Express service only. Keep in mind that there are packaging requirements—USPS requires that the inner container be stable, shock-proof, and sift-proof (i.e. sealed against leakage during transit). Since the USPS requires full return and delivery addresses be included on the outside of the package, we recommend using the Stamps.com Shipping Label feature to meet this guideline and also receive free tracking. Under our "Packages" section, you can select one of our "Shipping Label" options. You can easily print a trackable label on plain paper or on one of our self-adhesive labels, such as the 4 1/4″ x 6 3/4″ shipping labels (SDC-1200).
Identifying your package
Remember also to declare the Special Contents when you print your Shipping Label. After selecting the Priority Mail Express mail class and entering all of the appropriate criteria (addresses, weight, etc.), click on the "Select" button next to "Add'l Options." Click on "Special Contents" and select "Cremated Remains."
As of September 2019, the USPS requires using Label 139, a postal label indicating "Cremated Remains," which can be ordered for free here: https://store.usps.com/store/browse/productDetailSingleSku.jsp?productId=P_LABEL139
Additionally, shippers are required to affix Label 139 to all six sides of their shipping box.
International Mailing
For international mail, you may only use Priority Mail Express International to ship cremated remains. Cremated remains must also be shipped in a funeral urn. Remember to double-check whether the country to which you are mailing allows this type of shipment. Some countries, such as Belgium, Ireland, Kyrgyzstan, Portugal and the United Kingdom do not allow entry of cremated remains. Some countries also do not support Priority Mail Express International. We recommend researching this prior to mailing by accessing the Individual Country Listings here: https://pe.usps.com/text/imm/immctry.htm
Remember to fully and clearly identify the contents on your customs form. Stamps.com makes the process easy and efficient by combining postage and the Customs Declaration Forms into the same documentation/international shipping label. In the Customs Information window, under "Type of Contents," select "Other" and type in a detailed description under "More Info." In the itemized package content details, please also enter a detailed description to remain compliant with USPS guidelines.
Since you are using Priority Mail Express, you can schedule a free pickup to avoid going to the Post Office. Learn how to schedule a pickup here: https://blog.stamps.com/2017/04/21/usps-package-pickups-and-drop-offs/
November 26th, 2019
Comments off
Everyone knows that the frenetic Christmas shopping season officially kicks off on Black Friday, the day after Thanksgiving. Following shortly after Black Friday is Cyber Monday, a retail holiday started in 2005 as retailers sought to capitalize on the growing trend of online shopping. Sandwiched between those two retail extravaganzas, on the first Saturday after Thanksgiving is another shopping holiday known as Small Business Saturday.
What makes Small Business Saturday different from its well-known counterparts? While Black Friday and Cyber Monday attract people to national and big-box retailers as well as online shopping, Small Business Saturday encourages holiday shoppers to patronize brick-and-mortar businesses that are small and local.
What can small businesses do to take advantage of this special day that comes at the very start of the busiest shopping season of the year? Read these 5 helpful tips and find out.
It's easy for a small business to get lost in the massive world of retail. What can a small business do to rise above the fray and get noticed? Because fewer hands are involved in shipping packages to customers, each shipment can be personalized in some way. A business card that features the business's physical address, website, and social media accounts can go a long way. A thank you note can be included in the package—bonus points if it's handwritten and personalized with the customer's name. Additionally, a social media page that includes photos of the business, owners, and employees will let customers know who the friendly faces are behind the package they received in the mail.
While online promotion can be very effective, a small business can make its presence known offline as well. One of the main reasons people shop at small businesses is to support local businesses and put money back into the community. By engaging your local community, you can effectively boost your holiday sales—especially on Small Business Saturday. The local Chamber of Commerce, local organizations, and locally published newspapers and circulars can be used to get the word out.
Any and every social media account can be used to promote Small Business Saturday. Remember, hashtags can be a business's best friend; sales and deals can be promoted using #SmallBusinessSaturday, #SmallShop, #SmallBizSat, and others. The voice on a social media account should match the store's branding and products. For example, a small business that sells toys and games would present itself a bit differently than one that sells haute couture clothing and accessories.
After all, the holiday season is all about gift-giving, so businesses should place emphasis on items that would make good gifts. Just like any other seasonal sale, product selection and merchandising are key. Grouping products by intended recipient is a great way to showcase your offerings. Categories like "gifts for mom" or "gifts for grandpa" are always popular.
Any business is happy to get a new customer, but Small Business Saturday is also about engaging existing customers. The day can be advertised several weeks ahead of time by posting signs in windows and putting flyers in customers' bags when they pay at the register to remind them about it. If the business maintains a customer email list, a brief but friendly email can encourage them to stop in and check out the deals on Small Business Saturday.
By following these tips, small businesses can start off the busy holiday shopping season on the right foot!
November 15th, 2019
Comments off
Are you planning to ship gifts internationally this holiday season? You should know that USPS weight limits vary by mail class and destination country.
To ensure that your holiday packages are mailable check out the table below— you can determine how much your international package or letter can weigh by mail class and destination:
November 8th, 2019
Comments off
Parts one and two of this multi-part series focused on the kitchen and garage. Next stop? The office! You can pretend you're a pirate looking for buried treasure as you enter the office of almost any estate sale.
Chairs
The first item you should look for is chairs. Chairs made by companies like Herman Miller and Stressless are incredibly popular. Herman Miller makes highly adjustable office chairs that are pricey when purchased new. Stressless makes recliners that sell for thousands at retail. (Look for the Stressless logo on the round adjuster knob.) You can purchase these comfort chairs for $50-$100 at estate sales and sell them for $500-$600 online.
Note: Since chairs are large and heavy, list them as local pickup only. People who are interested in these brands will often drive long distances to pick them up.
Pens
Next, be on the lookout for expensive ballpoint and fountain pens. Brands such as Cross, Parker, and Montblanc are always in demand.
Vintage Stereo Equipment
Many Americans love listening to music as they work. Vintage stereo equipment is a common sight in the office area of the typical estate sale. Recently, a friend purchased a Sansui 9090DB AM/FM receiver for $30. Since it was valuable, he had it refurbished at the local stereo shop. He sold it for $950 to a dealer who drove 400 miles to pick it up! (Ironically, the dealer didn't care if it was refurbished because he has his employees inspect and improve the items he finds before selling them to his customers in Asia.)
Paperweights
In addition, keep your eyes peeled for signed paperweights. It is not uncommon to find high-end paperweights in the office area of an estate sale. Orient and Flume, for example, is a Northern California company that makes pieces that are highly collectible.
Office Supplies
The office is also a great place to stock up on supplies! Running a business can get expensive, and estate sales are fantastic places to purchase paper, envelopes, labels, and tape for almost nothing.
Stamps
Finally, be on the lookout for stamp collections. A few years ago, we bought a box full of random stamps for $5. The stamps weren't collectibles, but they were worth about $250 at the post office. We didn't have to buy stamps for a long time!
So the next time you're out and about looking for buried treasure at an estate sale, check out the office, mate! You won't regret it!
About the Author
Miriam Otto is an eBay blogger and credentialed teacher with 13 years' experience selling on the site. She was a frequent guest on eBay Radio and has participated in eBay seller panels and projects. Her blog, The eBay Life, is an all-in-one resource for eBay sellers.