Stamps.com Blog
Get the latest information on the mailing and shipping industry.
April 15th, 2019
Comments off
Seasoned e-commerce shippers are typically familiar with USPS restrictions for domestic items, but many are unaware of the additional restrictions for international items. Every country has restrictions as to what goods are allowed into their borders. Often times these restrictions are based on cultural or religious beliefs for the local community.  Other times, the restrictions are enacted to protect local industry. In this article, we will look at USPS international shipping restrictions on common goods, as well as some odd prohibitions you might not have thought of.
Common Prohibited International Items  
Aerosols
Air Bags
Alcoholic Beverages
Ammunition
Cigarettes and Smokeless Tobacco*
Dry Ice (even for refrigeration)
Flammable Paint
Fresh Fruits and Vegetables
Gasoline
Nail Polish
Perfumes containing alcohol
Poison
*Cigars may be shipped internationally unless prohibited by the destination country
Odd Prohibited Items from Select Countries

Canada

Wine, pens valued over $5

China

Used clothing

Germany

Playing cards

Ireland

Straw hats

Italy

Clocks, shoes, non-wood toys

Mexico

Jewelry

Norway

Pharmaceutical products of any kind

Peru

Used Tires

Turkey

Cosmetic products
Shipping Internationally with Stamps.com
Stamps.com makes international shipping easy. In addition to automated customs forms and discounts to all international mail classes, Stamps.com simplifies shipping restrictions with real-time restrictions on the "International" tab for all countries the USPS delivers to.
April 4th, 2019
Comments off
A smooth shipping process not only helps streamline your operations as an e-commerce seller, but also ensures your products reach your customers without undue delays.  Moreover, you can focus your efforts on growing your business instead of dealing with customer complaints and questions around package delivery status or postage due at the time of delivery.
What can you do to ensure a seamless shipping experience from the time your package leaves your hands and reaches your customer?  Follow these five easy USPS shipping guidelines!
Pay Attention To Your Package
Guideline #1 – Round up on Weights:  Did you know that the USPS rounds up package weights to the nearest ounce or pound depending on the mail class used?  To avoid underpaying for postage or even worse having your customer pay postage at the time of delivery, always round up your package weight.  As an example, if your package weighs 10 lbs. and 5 oz., you should use the shipping rate for an 11 lb. package.
Guideline #2 – Check the Dimensions:  Your package size can make a difference in how much you pay shipping!  Dimensional (DIM) weight may apply to a USPS package that is larger than 1 cubic foot (12″ x 12″ x 12″).  Pay attention to the dimensions of your package and avoid unnecessary empty space to lower shipping costs.
Does Your Shipping Label Match Your Package?
Guideline #3 – Verify the Mail Class:  What mail class should you use to ship your package?  This depends on the weight of your package, how soon you need it to be at its destination and also how much you want to pay for shipping.  Remember, each mail class allows packages up to a certain weight limit only.  Choose First Class Package Service for packages weighing up to 13 ounces and Priority Mail for packages over that weight limit!
Guideline #4 – Double check the Shipping Zone:  USPS Shipping Zones are calculated based on the distance between the origin and destination addresses.  Stamps.com customers should verify that the origin zip code (the zip code for where you ship your packages from) is set up correctly.
Guideline #5 – Match the Label to the Packaging:  Your shipping label should match your package!  For example, based on the package weight, size and shipping zone of your package, if you have decided to use a Flat Rate Priority Mail Box for your package, make sure to choose the corresponding mail class while printing your label.  Also, your Flat Rate label must only be used on a Flat Rate box.
USPS Shipping Made Easy With Stamps.com
When you ship with Stamps.com, you don't need to worry about underpaying for postage.  Use your Stamps.com digital scale to accurately weigh your package and the software will automatically use the rounded up weight and charge you the appropriate shipping rate.  Next, enter the package dimensions so Stamps.com can determine whether or not DIM weight applies to your package.  Select the correct package type or enter the dimensions of your package.  Also, make sure to set up your origin zip code correctly. When you enter the destination address, Stamps.com automatically calculates the correct shipping zone for your package.  Finally, choose your mail class and Stamps.com will print the appropriate USPS shipping label for your package.
March 25th, 2019
Comments off
Over the past several years, Facebook has emerged as one of the most viable digital tools for marketing your business. The first step, of course, is to start your own Facebook business page. If you've already got that, then you're one step ahead of the thousands of businesses that have yet to realize the marketing potential of social media.
But simply having a Facebook business page isn't enough—you've got to keep it consistently updated with new content in order to remain competitive and continue to grow your customer base. Here are 5 reasons why you should always be striving to add new content to your Facebook business page on a consistent basis.
1. Improve Engagement With Your Target Market
Today's consumers want much more from the companies they do business with besides good prices—they also want an engaging experience, either online or in a brick and mortar location. Obviously, Facebook is meant for engagement, so not using it to its full potential would be a huge mistake.
Engaging with your target audience through various posts gives you the chance to improve brand recognition, as well as learn more about your target audience, specifically their wants and needs. This is extremely valuable information that costs you next to nothing to acquire.
2. Improve Brand Awareness
As mentioned above, your Facebook page also serves to improve brand awareness—but only if you stay in the forefront of consumer's minds. Consistent posts will achieve that goal.
3. You Can Grow Your Target Audience
The people who are already following your page are essentially part of your business' Facebook community. And, they have friends and family members that might also like your page but haven't visited it yet. But all someone needs to do is share one of your posts or tag their friends in a post, and you're suddenly reaching more people without any effort. It's essentially free marketing and advertising—it works, so long as you keep adding new content.
4. Improves Search Engine Visibility
Your posts can be an ideal way to drive traffic to your site or two specific product pages. Use keywords in your posts, and they will be read by major search engines. This will serve to improve your own site's relevance and improve its rankings in search engine results.
5. You Will Remain Competitive
Today's digital landscape is an extremely competitive one. You need to consistently add new content to your Facebook business page in order to remain competitive, and possibly gain an edge over your competitors.
On the Internet, as it always was and continues to be, content is king. Keep your content fresh and engaging, and you'll be better able to achieve your business goals and optimize your ROI.
March 19th, 2019
Comments off
Trade shows are a great opportunity to get out and meet customers and partners, establish new relationships, and to share Stamps.com with ecommerce shippers just like you!
Check out the table below to learn more about where we'll be, and when. We'll post more details on social media as these events get closer.
March 8th, 2019
Comments off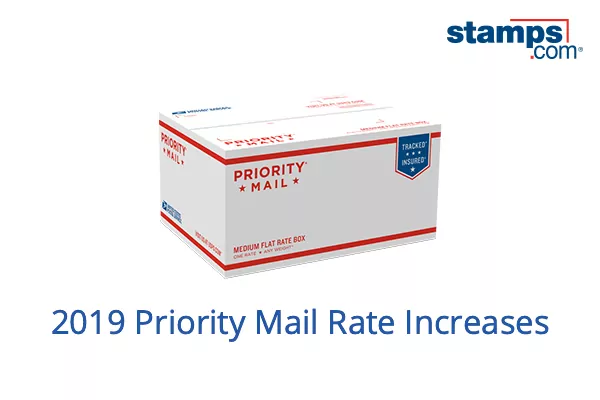 USPS Priority Mail is an expedited service that provides delivery anywhere in the U.S. within two to three days. With a maximum allowable package weight for this mail class is 70 pounds, priority mail is an affordable solution for a wide range of packages.
Priority Mail Rates in 2019
Priority Mail rates have increased an average of 5.9 percent in 2019. A one-pound package traveling from Los Angeles to New York (Zone 8) costs $8.25 in 2019, up from $7.76 in 2018. Though there is an overall rate increase in 2019, many packages will actually be cheaper to send in 2019 than they were in 2018.
Priority Mail – 2019 Rates (Commercial Base Pricing)

INCREASE PER PACKAGE – 2019 rates vs. 2018 rates

Mailpiece Weight

2019

2018

Increase

1 lb. – Zone 8

$8.25

$7.76

$0.49

2 lbs. – Zone 8

$10.86

$10.80

$0.06

3 lbs. – Zone 8

$15.28

$15.34

-$0.06

4 lbs. – Zone 8

$17.61

$18.15

-$0.54

5 lbs. – Zone 8

$20.40

$21.03

-$0.63

6 lbs. – Zone 8

$23.81

$24.07

-$0.26

7 lbs. – Zone 8

$26.75

$27.04

-$0.29

8 lbs. – Zone 8

$30.04

$30.36

-$0.32

9 lbs. – Zone 8

$33.40

$33.75

-$0.35

10 lbs. – Zone 8

$36.32

$36.71

-$0.39
Rates for Priority Mail Flat Rate Boxes and Flat Rate Envelopes also increase in 2019. A Priority Mail Padded Flat Rate Envelope will cost $7.55 in 2019, up from $7.10 in 2018.
Priority Mail Flat Rate – 2019 Rates (Commercial Base Pricing)

INCREASE PER PACKAGE – 2019 rates vs. 2018 rates

Mailpiece

2019
2018

Increase

Flat Rate Envelope

$6.95
$6.55
$0.40

Legal Flat Rate Envelope

$7.25

$6.85

$0.40

Padded Flat Rate Envelope

$7.55

$7.10

$0.45

Small Flat Rate Box

$7.50

$7.05

$0.45

Medium Flat Rate Box

$12.80

$12.85

-$0.05

Large Flat Rate Box

$17.60

$17.65

-$0.05

APO/FPO Large Flat Rate Box
$16.10
$16.15

-$0.05
Priority Mail Regional Rate Boxes provide great cost savings over regular Priority Mail when your parcel is over two pounds. For example, a Priority Mail Regional Rate Box A that weights five pounds for delivery to Zone 8 will cost $10.80 in 2018 compared to $21.03 for regular Priority Mail.
Priority Mail Regional Rate Boxes – 2019 Rates (Commercial Base Pricing)

INCREASE PER PACKAGE – 2019 rates vs. 2018 rates

Box A
 
 
 
 
 
 
 
 
Period
Zones
1 & 2
Zone
3
Zone
4
Zone
5
Zone
6
Zone
7
Zone
8
Zone
9
2018
$7.10
$7.25
$7.40
$8.15
$9.47
$10.29
$10.80
$15.33
2019
$7.65
$7.85
$8.12
$8.76
$10.00
$10.55
$11.20
$15.64
Change
$0.55
$0.60
$0.72
$0.61
$0.53
$0.26
$0.40
$0.31
Box B
Period
Zones
1 & 2
Zone
3
Zone
4
Zone
5
Zone
6
Zone
7
Zone
8
Zone
9
2018
$7.41
$8.42
$9.37
$10.65
$16.15
$18.47
$21.03
$29.15
2019
$8.05
$8.50
$9.40
$10.65
$16.15
$18.47
$21.03
$29.73
Change
$0.64
$0.08
$0.03

$0.00

$0.00
$0.00
$0.00
$0.58