September 24th, 2014
Comments off
Send Your Tax Return via Certified Mail with Stamps.com
Mailing in your tax return? Use Certified Mail to obtain proof that your tax return was accepted by the USPS,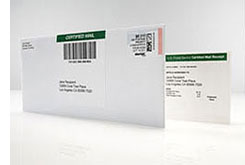 delivered, and signed for. When you use this service, the USPS offers a mailing receipt, provides delivery information, and maintains a copy of the recipient's signature for two years. In addition, you can request a Return Receipt for a copy of the signature. In the event of any dispute regarding mailing dates, Certified Mail has you covered… and so does Stamps.com!
Process Certified Mail in just a few clicks with Stamps.com
The days when you had to go to the Post Office and manually fill out forms for Certified Mail are long gone. Stamps.com lets you complete every step from your computer in a just a few clicks. Our software gives you access to simple, automated forms and lets you print postage and addresses in one step. Want to confirm the delivery of your tax return? The software automatically records the tracking number for Certified Mail, making it quick and easy to verify delivery online. Return Receipt? Stamps.com does that, too. It's our way of helping you get your taxes done right.
Find the right Certified Mail form at the Stamps.com Store