Understanding the USPS 13 Ounce Mail Rule
Let's say I want to mail a 14-ounce bottle of shampoo to my mom. Do I really have to wait in line at the Post Office to send it? Well, according to the USPS 13-Ounce Mail Rule, I do. However, Stamps.com customers have a way out!
What exactly is the USPS 13-Ounce mail rule?
Glad you asked. The 13-Ounce Mail Rule requires that any mail piece weighing over 13 ounces that is mailed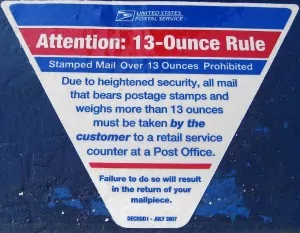 with postage stamps has to be presented in person to a USPS employee at the Post Office. Since postage stamps are untrackable, presenting the mail piece to a postal employee serves as a security measure to keep the public, customers, employees and the U.S. mail safe. It's a good rule. But it still means an extra trip to the Post Office. Luckily, Stamps.com offers a way around it.
Stamps.com shipping labels to the rescue
There's an exception to the rule: If you use online shipping labels instead of postage stamps, you can send mail pieces weighing over 13 ounces WITHOUT a trip to the Post Office. Why? Printing shipping labels with internet postage (like those printed with Stamps.com) provide the USPS with sender information that regular postage stamps do not.
Moral of the story
Forget the 13-Ounce Mail Rule and just use Stamps.com to print your shipping labels. It will save you from those gas-guzzling, time-sucking trips to the Post Office. Let's hear it for Stamps.com shipping labels! Mom, your package is on its way!