Stamps.com Blog
Get the latest information on the mailing and shipping industry.
January 7th, 2020
Comments off
The busy holiday season is over, and now you can sit back and relax, right?
Well, not exactly. Your business is still doing business, and along with normal operations that you have to manage on a daily basis, you'll probably have to deal with items that customers are returning for exchanges or refunds.
Here are five tips that will help you to manage returns as efficiently as possible, keep your customers happy, and learn tips for even great success next holiday season.
Good customer service includes making it easy for customers to return items. After all, if you do your best to give your customers what they want, they're likely to continue to give you their business. A clearly marked and easily accessible returns portal on your website helps facilitate a smooth and easy returns process. If a customer is returning an item, they may already feel a certain level of frustration or disappointment, and a complicated return process only exacerbates the situation. Your customers will appreciate a quick, simple solution for returns.
This is beneficial for both you and your customers. Let them know exactly what to expect in terms of deadlines, refunds, exchanges, etc. Much confusion and frustration can be avoided if your terms are clearly spelled out. Post clear, easy-to-understand policies on a page of your site that is specifically designated for returns and/or shipping policies.
You should consider it part of your responsibility as an e-commerce retailer to keep your customers informed regarding the status of their packages. It's a good policy to send an email when their return is scanned at the post office or when you receive the package. This also makes it easier for your staff, as return tracking information can help alleviate the number of calls coming into your customer support team. Customers can see clearly where their package is in the shipping process and when they can expect it to arrive.
As a retailer, you're concerned with customer satisfaction. But you also have to keep an eye on the bottom line. So it's important to know how much a return is costing your business—in both dollars and work hours. This includes the cost of shipping itself, customer service calls, restocking, etc. If you do all the calculations and find that it costs as much or nearly as much to return the item as it would to simply purchase another one wholesale, consider letting the customer keep it instead.
Each time an item is returned, use it as an opportunity to learn something about your customers and products. What items are returned and why? Could it be a sign of a bigger problem, such as inaccurate product descriptions, low-quality merchandise, poor customer service, or something else? Learn from your returns, and make needed changes to reduce the number of returns in the future.
Remember, returns don't always equal failure on your part. It's just part of doing business. Keep this aspect of your customer service as positive and convenient as possible and learn from your returns. If you do, you'll find that your customers—even those who have returned something—will be back again.
December 28th, 2019
Comments off
Starting January 26, 2020, the USPS will implement new rates for domestic and international mail classes as well as its Special Services. Want to learn more about these changes and how they may impact your mailing and shipping? We've created a new guide for our customers detailing the USPS rate and service change for each mail class. This Postage Rate Increase Guide includes side-by-side rate comparisons so you know how much you'll pay on and after January 26, whether you pay retail rates or discounted Stamps.com rates. This guide also includes general shipping suggestions and a Frequently Asked Questions page to help answer any questions you might have about this rate increase.
This guide includes 2020 postage rates for:
First-Class Mail
Priority Mail Express
USPS Retail Ground
Medial Mail
Global Express Guaranteed
Priority Mail International
USPS Special Services
December 23rd, 2019
Comments off
Beginning January 1, 2020, all shipments to Brazil must include the recipient's Tax ID number on both the customs declarations and shipping labels. Brazil is implementing this new requirement to help ensure taxes are collected from resellers who purchase U.S. goods and resell them within Brazil at a profit. If you are selling to customers in Brazil it is essential that you collect their Tax ID at the time of sell—shipments missing the recipient's Tax ID will be subject to return, or even disposal, by Brazilian Customs.
Shipping and Customs Requirements
Regardless of mail class, the recipient's Tax ID must be visible on the shipping label and declared within the appropriate customs form. There are several Tax IDs that can be used when shipping to Brazil, including:
CPF – Individual Tax ID (format: 000.000.000-00)
CNPJ – Business Tax ID (format: 00.000.000/0000-00)
Passport Number
Shipping to Brazil with Stamps.com Online
If you are a Stamps.com customer, adding a Tax ID to your Brazilian shipment is simple. Typically when shipping to an individual in Brazil, the company field is left blank: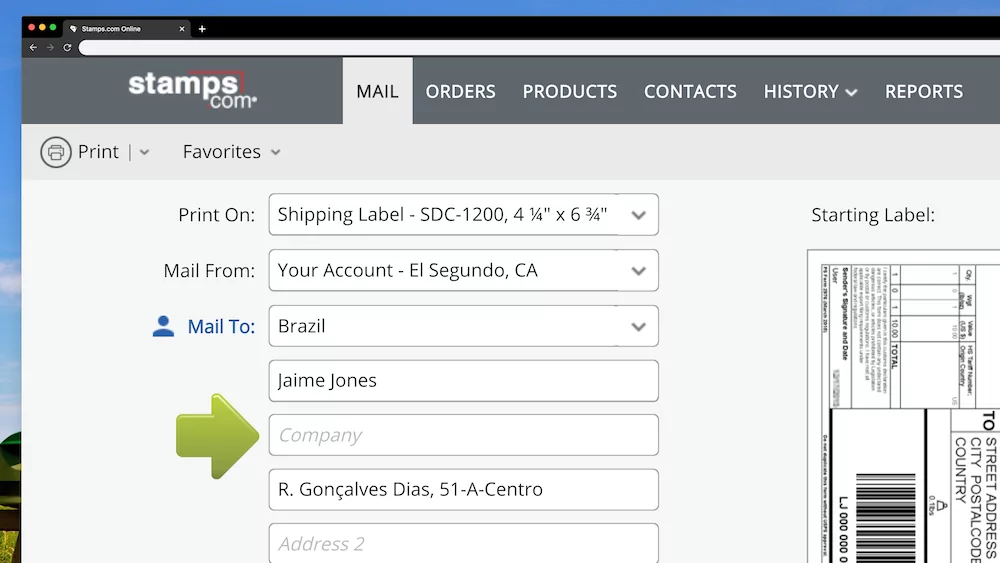 You can use this field to enter your recipient's Tax ID. We recommend using the prefix "CPF-" to indicate that you are using an Individual Tax ID.
If you are shipping to a business, enter the customer's Business Tax ID, followed by a slash and their business name.
Shipping to Brazil with Stamps.com Windows Software
If you use the Stamps.com Windows software the process of adding a Tax ID to your shipment is just as easy. Within the International Tab of the software simply include the recipient's Tax ID in the Delivery Address field under the recipient's name.
For Individual Tax IDs use the format "CPF-" followed by the ID number:
For Businesses enter the customer's Business Tax ID, followed by a slash and their business name:
December 9th, 2019
Comments off
There may be different reasons why you would need to ship cremated remains: you're a relative entrusted with transporting or distributing the remains of a loved one; you need to ensure that a pet cremation urn is safely sent back home; or you're in the death care business and your funeral home needs to transport cremated remains frequently. Whatever the reason may be, Stamps.com can help you make the process as painless as possible.
The first thing to know is that you can only use the USPS to ship cremated remains. Courier services like FedEx and UPS do not allow this. Therefore, you can use your powerful Stamps.com platform to ship cremated remains.
Preparing your package
The USPS allows for shipping cremated remains by Priority Mail Express service only. Keep in mind that there are packaging requirements—USPS requires that the inner container be stable, shock-proof, and sift-proof (i.e. sealed against leakage during transit). Since the USPS requires full return and delivery addresses be included on the outside of the package, we recommend using the Stamps.com Shipping Label feature to meet this guideline and also receive free tracking. Under our "Packages" section, you can select one of our "Shipping Label" options. You can easily print a trackable label on plain paper or on one of our self-adhesive labels, such as the 4 1/4″ x 6 3/4″ shipping labels (SDC-1200).
Identifying your package
Remember also to declare the Special Contents when you print your Shipping Label. After selecting the Priority Mail Express mail class and entering all of the appropriate criteria (addresses, weight, etc.), click on the "Select" button next to "Add'l Options." Click on "Special Contents" and select "Cremated Remains."
As of September 2019, the USPS requires using Label 139, a postal label indicating "Cremated Remains," which can be ordered for free here: https://store.usps.com/store/browse/productDetailSingleSku.jsp?productId=P_LABEL139
Additionally, shippers are required to affix Label 139 to all six sides of their shipping box.
International Mailing
For international mail, you may only use Priority Mail Express International to ship cremated remains. Cremated remains must also be shipped in a funeral urn. Remember to double-check whether the country to which you are mailing allows this type of shipment. Some countries, such as Belgium, Ireland, Kyrgyzstan, Portugal and the United Kingdom do not allow entry of cremated remains. Some countries also do not support Priority Mail Express International. We recommend researching this prior to mailing by accessing the Individual Country Listings here: https://pe.usps.com/text/imm/immctry.htm
Remember to fully and clearly identify the contents on your customs form. Stamps.com makes the process easy and efficient by combining postage and the Customs Declaration Forms into the same documentation/international shipping label. In the Customs Information window, under "Type of Contents," select "Other" and type in a detailed description under "More Info." In the itemized package content details, please also enter a detailed description to remain compliant with USPS guidelines.
Since you are using Priority Mail Express, you can schedule a free pickup to avoid going to the Post Office. Learn how to schedule a pickup here: https://blog.stamps.com/2017/04/21/usps-package-pickups-and-drop-offs/
November 26th, 2019
Comments off
Everyone knows that the frenetic Christmas shopping season officially kicks off on Black Friday, the day after Thanksgiving. Following shortly after Black Friday is Cyber Monday, a retail holiday started in 2005 as retailers sought to capitalize on the growing trend of online shopping. Sandwiched between those two retail extravaganzas, on the first Saturday after Thanksgiving is another shopping holiday known as Small Business Saturday.
What makes Small Business Saturday different from its well-known counterparts? While Black Friday and Cyber Monday attract people to national and big-box retailers as well as online shopping, Small Business Saturday encourages holiday shoppers to patronize brick-and-mortar businesses that are small and local.
What can small businesses do to take advantage of this special day that comes at the very start of the busiest shopping season of the year? Read these 5 helpful tips and find out.
It's easy for a small business to get lost in the massive world of retail. What can a small business do to rise above the fray and get noticed? Because fewer hands are involved in shipping packages to customers, each shipment can be personalized in some way. A business card that features the business's physical address, website, and social media accounts can go a long way. A thank you note can be included in the package—bonus points if it's handwritten and personalized with the customer's name. Additionally, a social media page that includes photos of the business, owners, and employees will let customers know who the friendly faces are behind the package they received in the mail.
While online promotion can be very effective, a small business can make its presence known offline as well. One of the main reasons people shop at small businesses is to support local businesses and put money back into the community. By engaging your local community, you can effectively boost your holiday sales—especially on Small Business Saturday. The local Chamber of Commerce, local organizations, and locally published newspapers and circulars can be used to get the word out.
Any and every social media account can be used to promote Small Business Saturday. Remember, hashtags can be a business's best friend; sales and deals can be promoted using #SmallBusinessSaturday, #SmallShop, #SmallBizSat, and others. The voice on a social media account should match the store's branding and products. For example, a small business that sells toys and games would present itself a bit differently than one that sells haute couture clothing and accessories.
After all, the holiday season is all about gift-giving, so businesses should place emphasis on items that would make good gifts. Just like any other seasonal sale, product selection and merchandising are key. Grouping products by intended recipient is a great way to showcase your offerings. Categories like "gifts for mom" or "gifts for grandpa" are always popular.
Any business is happy to get a new customer, but Small Business Saturday is also about engaging existing customers. The day can be advertised several weeks ahead of time by posting signs in windows and putting flyers in customers' bags when they pay at the register to remind them about it. If the business maintains a customer email list, a brief but friendly email can encourage them to stop in and check out the deals on Small Business Saturday.
By following these tips, small businesses can start off the busy holiday shopping season on the right foot!