Can I Mail Prescription Drugs with USPS?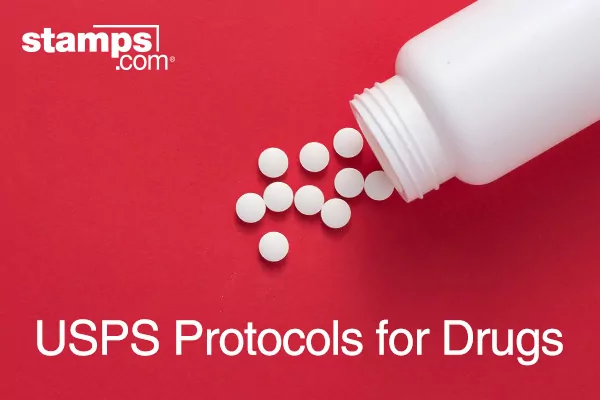 If you need to mail prescription drugs, you'll want to get to know federal and state laws about shipping these items before trying to ship them with the USPS. Here are the basics of mailing drugs via the USPS. You will need to be familiar with what is permitted, and what isn't, to avoid any legal issues.
Prescription Drugs
As the name implies, prescription drugs are not available except with a written order from a licensed medical provider. You are only permitted to mail prescription drugs via the USPS if you are a pharmacist or medical provider mailing such drugs to the patient they have been prescribed to. This means that without proper medical licensing you can receive prescription drugs, but you cannot, under any circumstance, mail them.
Over-the-Counter Drugs
Prescription drugs are only permitted to be sent via USPS under specific circumstances—but what about over-the-counter drugs?
Any drug that is available for retail without a prescription is considered an over-the-counter drug. Common examples of such drugs are mild pain-relief medicines and skin creams. Anyone can mail such drugs with the USPS as long as they comply with federal and state laws such as the Poison Prevention Packaging Act of 1970 and the Consumer Protection Safety Commission Requirements.
Controlled Substances
Controlled substances are drugs in which the federal government tightly controls. These substances are placed into five categories, or schedules, each with varying regulations and mailability. Some controlled substances are treated as prescription drugs—they can be mailed by medical professionals with the proper documentation. Other controlled substances are not mailable under any circumstances. The USPS takes the shipment of narcotics very seriously, and the Postal Inspection Service Prohibited Mail Narcotics program investigates shipments of illegal drugs through the mail and works closely with state, local, and federal law enforcement agencies to combat this illicit trade.
You cannot mail a controlled substance unless:
You and the person you are mailing the drugs to are registered with the Drug Enforcement Agency or are exempt from the registration requirement. (Law enforcement, civil defense workers, and members of the military do not need to register with the DEA).
You are participating in a federal mail-back program to dispose of such drugs and follow the mailing regulations for participation in the program.
You are a drug manufacturer or pharmacy owner who is filling a prescription containing narcotics.
You should be aware that anything used to take narcotics, such as pipes or syringes, cannot be mailed under current federal guidelines.
Rules for Packaging Drugs
Controlled substances must have inner packaging that is marked and sealed in accordance with the Controlled Substances Act in addition to providing information on the inner packaging about the prescription, such as the prescription number and the name and address of the pharmacy dispensing the drug. The outer wrapping of such packages must be plain and cannot contain any information identifying the package's contents.
Other drugs must be placed inside a plain wrapper or package.
Promotional samples of non-prescription drugs may have a brief description of the product on the outside of the package along with the words SAMPLES ENCLOSED.
It is important to follow all of these rules because mailing drugs in a non-allowed manner is considered a breach of federal law and can result in serious legal consequences. If a USPS inspector finds non-mailable drugs in a package presented for delivery, that worker is required to report it as well as reject the item for delivery.