How To Use Mailing Tubes With Stamps.com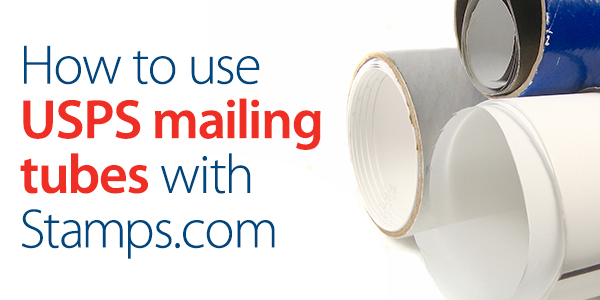 Posters can be found anywhere from college dorm rooms to home offices. Whether a poster is autographed and special edition or simply a reprint of someone's favorite movie, they can easily tear or suffer damage in transit. USPS does offer free small and medium poster tubes, but shipping posters also requires understanding how to package them to avoid ripping. Keep posters and your shipping process intact, all while using Stamps.com to help.
Free USPS Priority Mail® tubes
USPS currently offers free small and medium poster tubes. Each size can be used with Priority Mail® or Priority Mail Express® services and can be ordered from USPS in packs of 10 or 20. These cardboard tubes can be shipped directly to your home and/or business for free.
These tubes and other supplies can also be ordered through your Stamps.com account. To order free USPS supplies:
Select Buy Supplies on your Stamps.com Online dashboard
Click on the supplies you need to order
Check out using your Stamps.com account info
That's it! Your supplies should arrive within 7-10 days of order. To order larger quantities of items, call USPS directly at 1-800-610-8734.
How to track USPS Priority Mail® tubes
The tracking included with free USPS Priority Mail® tubes is the same tracking included with other Priority Mail® packaging and services. Packages can be tracked door-to-door, meaning your customer can track a package from the time of label creation to delivery.
Tips for mailing posters
While posters aren't necessarily fragile items, they're still delicate and can be bent, ripped, and damaged. The key to preventing posters from being harmed in transit is all in the packaging and customer communication.
Wrap your poster in brown Kraft paper to avoid damages
Accurately enter dimensions and weights for shipments by measuring and weighting shipments multiple times
Tape each end of the tube with packing tape to keep your poster from falling out
Notify your customers if posters will be wrapped in additional packaging to avoid any accidental cutting or tearing
Selecting USPS Mailing Tubes In Stamps.com
Stamps.com keeps shipping posters simple. You aren't required to scroll through multiple package types when shipping tubes. Select "packages" as the mailpiece type. Additionally, you can utilize automation rules to automate your shipping workflow. Create a rule to automatically apply Priority Mail®, package dimensions, and "package" as the mailpiece type to orders, so your posters are easier to ship.
Unroll a 30-day free trial to Stamps.com today.