Making Winter Delivery Easy and Safe for USPS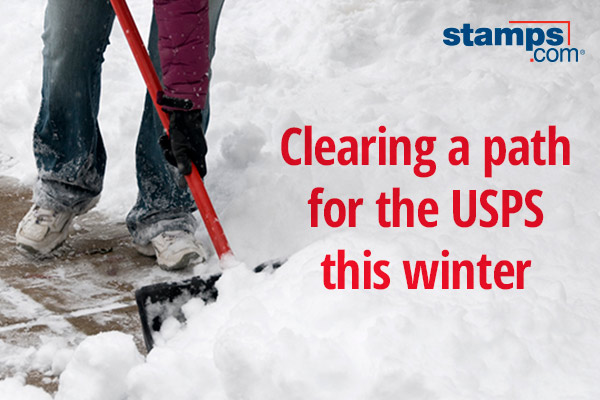 Sometimes a record-setting snowstorm can cause the closing of schools, banks, state offices, businesses, highways and roads. However, as a Stamps.com user, you can help reduce further disruptions by preparing your home and business for USPS Pickups during wintertime.
Safety and accessibility are key issues for the USPS, so remember to keep your driveways and sidewalks clear of snow, sleet, slush, ice and debris. Check your home's access points every day. Make sure you clear any piles created by a local snow plow. Spread sand and salt at USPS vehicle stopping points.
The USPS will aim to reach every address this winter season, but keep in mind that if an access area is deemed a hazard, a delivery or pickup may not occur. Whether it is a patch of ice or six feet of snow, winter conditions can cause serious injuries for carriers.
You can also assist USPS carriers by ensuring snow isn't piled up on, against, and around porch steps, curbside mailboxes, overhangs, and centralized cluster box units. For curbside boxes, a good rule of thumb is to remove enough snow to ensure that the carrier can reach the box from the delivery vehicle.
Scheduling a Free USPS Pickup
The winter season is a great opportunity to reach out to loved ones with letters, cards and postcards. If you have a home-based business, it's also a great opportunity to increase your holiday sales. Don't let snow get in the way of that! Make sure your home is accessible, safe, and ready for the USPS so that you can have a stress-free mailing season.
As a Stamps.com user, you can schedule a free USPS Pickup of your Priority Mail, Priority Mail Express, and First Class Mail International packages.
Print your shipping labels using the easy-to-use Packages section of our software. After that, you can click "USPS Pickup" on the left side of your screen, in the blue navigation toolbar. Select the packages that need to be picked up and click on the gray "Schedule Pickup" button.
Before you hit "Submit," you can enter any special instructions for your carrier and also specify the package location by selecting one of the following options: Front Door, Back Door, Side Door, Knock on Door/Ring Bell, Mail Room, Office, Reception, or Other. Just make sure access to the package locations is snow-free!