How to Avoid Post-Billing Adjustments
Additional shipping costs can be stressful, especially when charged after your package has shipped. Carrier adjustments can add up, but fortunately, you can work to avoid them. Learn where to find adjustments, how carriers calculate these fees, and what you can do to prevent fees
What are carrier adjustments?
Adjustments are extra fees or credits added to your shipping cost after a carrier processes a package. The additional charges are calculated by subtracting the amount of postage paid for a shipment from the shipping costs that should have been paid. For example, you may have paid $10 in shipping costs. However, your shipment reaches USPS, and they find the shipping costs should've been $13. Your adjustment charge would then be $3.
Where to find adjustments
USPS and UPS adjustments can be found in your Stamps.com history. Keep in mind that there's a delay between when an adjustment is given by a carrier and when the adjustment is shown in your account. To view adjustments, follow the steps below.
Click on the History tab to view recent shipments. If a shipment was given an adjustment, it will be listed in the Adj. Amount column. Once you click on the shipment, you'll see more information on why the adjustment was issued.
To find these additional details, select the shipment to open the Order Details panel. In the example below, the adjustment was issued because incorrect dimensions were entered when the label was created.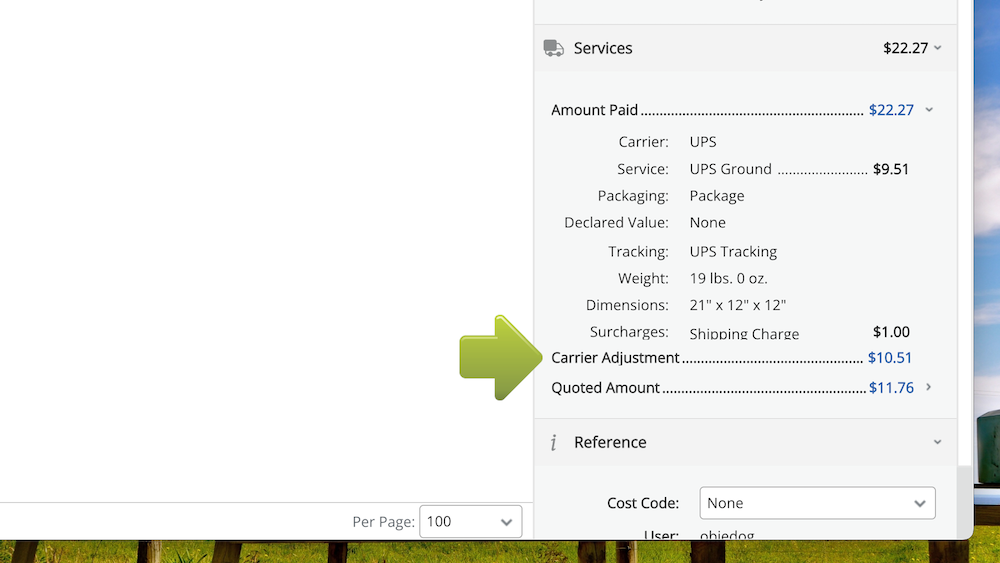 USPS adjustments
Some of the most common reasons for adjustments include entering incorrect dimensions and weight as well as using/entering the incorrect packaging. As a reminder, the maximum weight for Priority Mail Flat Rate® Boxes (all sizes) is 70 pounds. Additionally, weight is rounded up. For example, if your shipment weighs 70.2 pounds, it will be rounded up to the nearest pound, making it too heavy for the service. Dimensions for Priority Mail Flat Rate® Boxes will need to be entered when creating your label as well.
Non-machinable surcharges
Another type of surcharge given by USPS is a non-machine surcharge. This surcharge is applied to pieces of mail and packages that aren't able to be automatically sorted through USPS machines. Reasons a non-machinable surcharge might be issued include illegible addresses or non-traditional sizes that require these items to be manually sorted or assessed.
UPS adjustments
UPS® shipments can be up to 150 pounds and have a maximum length of 108." However, if your package is over 50 pounds, it's subject to UPS Additional Handling fees. UPS Additional Handling charges are extra fees applied to your shipping cost for shipments that need different handling. Some of these include:
Packages with the longest side over 48" or the second-longest side over 30"
Domestic shipments over 50 pounds and international shipments over 70 pounds
Packages with a combined length and girth [ (2 x width) + (2 x height) ] of 105"
Common UPS surcharges
Three avoidable UPS adjustments are Over Maximum Size surcharges, Large Package surcharges, and Shipping Charge Corrections.
Over Maximum Size surcharges are extra fees applied to your shipments that exceed UPS's sizes of 150 pounds, 108" long, and have a combined length and girth of 165".
Large Package surcharges are extra fees applied to your shipments when:
A domestic package's length + girth are over 130", or its length is over 96"
An international package's length + girth are over 130"
Packages with a minimum billable weight of 90 pounds (except for UPS Ground®)
Shipping Charge Corrections are extra fees applied to each shipment with incorrect dimensions and/or weight. These charges are $1 per shipment, along with the additional shipping cost needed for the corrected dimensions and/or weight, and these shipments are also still subject to other surcharges like Additional Handling charges.
How to dispute adjustments
The steps for disputing an adjustment will vary by the carrier. It's also important to note that approval is at the carrier's discretion. We've included the process for disputing adjustments with USPS, UPS, and DHL below.
Disputing USPS adjustments
USPS adjustments will be disputed with USPS directly through email by contacting VerifyPostageHelp@usps.gov. Before sending your email, confirm all of the following information is included:
The tracking number associated with your package
The adjustment ID from the Order Details panel
The reason the adjustment is being disputed*
Note: We recommend adding as many details as possible.
USPS will follow up via email if they need additional information. Once USPS has reached a decision, they'll reach out to Stamps.com, and we'll forward their email response to you.
Disputing UPS adjustments
To dispute UPS adjustments, contact our Customer Care team via email or phone at 1-855-860-7867 from Monday – Friday, 6am to 6pm PT. Adjustment disputes need to be made within 180 days of billing.
Disputing DHL adjustments
Similar to UPS, you'll contact our Customer Care team via email or phone for adjustment disputes. Our team can be reached via email or phone at 1-855-860-7867 from Monday – Friday, 6am to 6pm PT.
Tips to avoid adjustments
As previously mentioned, incorrect weight, dimensions, and packaging are some of the most common reasons for adjustments. You can decrease the likelihood of adjustments through:
Measuring shipments multiple times for accuracy
Rounding dimensions up to the nearest weight or pound
Confirming your scale calibration is correct before weighing
Checking carrier websites for service restrictions and dimensional limits
Conclusion
Don't let shipping adjustments catch you off-guard. Checking all of your measurements multiple times before creating a label will minimize the risk of additional fees. Familiarizing yourself with carrier dimensions will prevent sending shipments through the wrong service. Adjustments can be costly, so understanding how to avoid them is crucial. Keep your shipping budget intact by bookmarking this blog.
Start your 30-day free trial with Stamps.com today.