6 Tips for Package Shipping to APOs/FPOs
The men and women in the military look forward to receiving packages and letters from their friends and family back home.  However, many times it is tough to narrow down their exact shipping address if they are active duty military personnel deployed overseas. Due to this problem, the military has developed APOs and FPOs.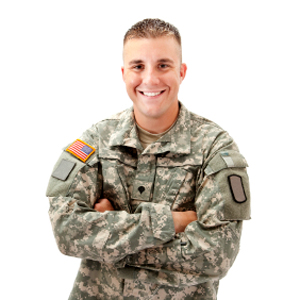 What is APO or FPO?
APO, which stands for Army Post Office, can take items for people serving abroad in the army or Air Force. Letters sent to an FPO, or Fleet Post Office, can be delivered to people in the Navy and on ship-based missions outside of the United States.
What makes APO/FPO address different from a street address is that part of the delivery is handled by the Department of Defense to get it to areas outside of the continental United States. Unlike mail sent to a street address or post office, APO/FPO addresses have "AA," "AE" or "AP" listed in the state category. Although other shipping services, such as FedEx and UPS, send packages to other countries where military forces are concentrated, only the USPS is able to send an item to an APO or FPO.
USPS Tips For Mailing To APO or FPO:
Before you prepare your letter or package, there are a few things you will need to know about mailing items to an APO/FPO.
Tip #1  Packages must be less than 70 pounds and smaller than 130 inches in length and girth combined.
Tip #2  Don't include alcohol, perishables, firearms or any hazardous materials in your package, either.
Tip #3  Some zip codes have additional restrictions, so it pays to research them before mailing your parcel. Contact the Military Postal Service Agency at 1-800-810-6098 for additional restriction details.
Tip #4  Addressing your letter or package properly will ensure its arrival. The Department of Defense requires you to use the service member's full name, the unit and APO/FPO with a 9-digit zip code and a return address.
Tip #5  If you are just planning to mail a letter that weighs a few ounces, you will not need to fill out a customs form. However, if you are sending a package, you must attach a customs form detailing where your package is going and what is inside.
Tip #6  You must give your APO/FPO parcel to a USPS employee in order to mail it. If you don't feel like going to the post office, you can schedule an in-person carrier pickup at your home through Stamps.com.
Going the extra mile to send a package to someone in the armed forces is an easy gesture that will brighten a soldier's day. With these rules in mind, your shipping process will be problem-free.
Special Note for Stamps.com Customers:  To send a package to an APO or FPO address, Stamps.com customers need to use the "Packages" tab.  This "Packages" tab is built for domestic postage and does not automatically create a U.S. customs form.  You will need to complete and attach a customs form manually for your package.