Stamps.com Blog
Get the latest information on the mailing and shipping industry.
February 17th, 2017
Comments off
Looking for more online exposure for your ecommerce business? Then you ought to be paying attention to search engine optimization (SEO). By helping search engines understand your site and what you're selling, SEO in return does a better job of listing your site when certain terms come up in user searches.
Because an A-to-Z review of this topic would fill a book, here's an abbreviated look at how SEO works, and how it can work for you.
A is for Algorithm. Search engines can't think, but they can generate a list of the sites that they perceive to be the best hits for certain words.
C is for Content. Naturally, you're going to make sure each page of your site takes full advantage of SEO. But what happens when visitors come to your page, and you no longer carry the item they're looking for or are out of stock? Review every page of your site regularly to make sure shoppers don't reach dead ends. If you don't have the products they're looking for, update listings with the expected date you'll be able to fulfill orders, or offer alternative products to keep them engaged on your site.
K is for Keyword Research. When you understand the terminology your potential customers are plugging into search engines, the better you're able to plug the same words onto your site. Think of keywords as shortcuts that sum up each page's content.
L is for Longtail. Longtail keywords are SEO phrases that contain three or more words, and they account for 70 percent of searches. Longtails allow shoppers to be specific; for example, instead of searching for "doll," they can narrow their results to "vintage rag doll."
R is for Rank. Sure, your site may come up in a search, but is it on the first page? Better yet, is at or near the top of the first page? Recent data shows that the first hit on a page garners 32.5 percent of traffic; the second hit is a distant 17.6 percent and the numbers go downhill from there. Your goal is to keep your site ranked high, and that means reviewing your SEO keywords regularly.
T is for Technology. Nowadays, third-party apps and tools make it easy to come up with search words with minimal manual input. Use these services, but don't let them be a substitute for your personal expertise or good old common sense.
U is for Unique. Search engines don't like identical content from different sites. If your products come to you directly from a manufacturer, resist copying the original product information. Rewriting product descriptions and infusing them with your personal touch can help keep your listings unique and your site's rank high.
V is for Volume. This is the data in your stats that measures average monthly searches. This information can help you assess whether the SEO terms you're using are yielding the best results.
February 10th, 2017
Comments off
Have questions about the 2017 USPS Postage Rate changes? We have answers!
When did the new USPS rates start?
The 2017 USPS postage rate increase went into effect on Sunday, January 22, 2017.
Are Forever Stamps purchased before January 22, 2017 still valid?
Yes, Forever Stamps purchased from the Post Office (or another location) remain valid. You can still use Forever Stamps to mail a one-ounce First-Class Mail letter, even if purchased before January 22.
Can I buy the $0.46 Metered Rate postage stamps at the Post Office?
No, the Metered Rate $0.46 postage stamps can only be printed using an approved PC Postage/online postage vendor such as Stamps.com or through a postage meter. The Metered Rate $0.46 stamps cannot be purchased at the Post Office. Learn more about saving with Metered Mail rates here: http://blog.stamps.com/2017/02/02/save-3-cents-printing-first-class-mail-letters-online/
How do I get Commercial Base discounts for printing postage online?
You automatically qualify for Commercial Base pricing if you print shipping labels using Stamps.com (or any online postage vendor). These rates are automatically calculated when you print postage.
Did online postage rates for any international mail classes increase for 2017?
There is no rate increase for Priority Mail Express International, Priority Mail International or First Class Package International Service in 2017, if you buy postage online using Stamps.com (or any online postage vendor).
Can anyone use Regional Rate Boxes or are they only for large quantity shippers?
Anyone can ship using Regional Rate Boxes, regardless of the number of packages shipped. If you buy postage for a Regional Rate Box at the Post Office, you will have to pay and additional $2.25 for Zones 1-4 and $1.00 for Zones 5-9.
Did online postage rates for Parcel Select Ground decrease?
Yes, for certain weight and zone combinations, the price for Parcel Select Ground will be lower than what it was in 2016. Most of these rate decreases are zone specific for packages weighing between 2 pounds and 5 pounds.
When do I need to include that plastic (Form 2976-E) envelope on my package for the Customs Forms?
The USPS Form 2976-A Customs Form includes four copies of the standard Customs Form and must be inserted into the Form 2976-E envelope. You would attach this on Priority Mail International or Priority Mail Express International packages, but you can use the USPS 2976 Customs Form (1 page) for First-Class Package International Service packages.
I am a Stamps.com customer. Do I need to take any actions to get the new rates?
No, if you are a Stamps.com customer, you do not need to take any action. Stamps.com automatically updated all USPS rates inside the software and web-based version (Stamps.com Online) on Sunday, January 22, 2017.
February 2nd, 2017
Comments off
Since its introduction in 2014, Metered Mail rates have offered businesses of all sizes a way to save using Online Postage. Metered Mail rates apply to First-Class Mail® Letter postage printed through USPS licensed software (such as Stamps.com) or using a postage meter. Online Postage costs the USPS significantly less than traditional postage stamps, and the savings are passed on to customers through Metered Mail rates.
Metered Mail Savings Are Bigger Than Ever – Save 3 Cents on Every Letter!
With the recent 2017 USPS Postage Rate changes that started on January 22, 2017, single-piece letter senders can save even more using Meter Mail as opposed to retail (or Post Office) rates. The Metered Mail rate for one-ounce First-Class Mail® Letters has dropped from $0.465 to $0.46, while the retail rate has increased from $0.47 to $0.49. These new rates save businesses $0.03, or six percent, on one-ounce First-Class Mail® Letters when using Online Postage. 2017 marks the first time ever that the Metered Mail savings have exceeded $0.01. For businesses looking to reduce postage cost, there has never been a better time to switch to Online Postage.
New Metered Mail Rates Are Built In To Stamps.com
Stamps.com customers automatically receive the new discounted Metered Mail rate. When printing Online Postage for First-Class Mail® Letters, customers can select the Metered Mail rate or manually enter a stamp amount. In addition to Metered Mail, Stamps.com has also been updated with every USPS Postage Rate for 2017.
January 23rd, 2017
Comments off
New USPS postage rates went into effect Sunday, January 22, 2017. Wondering if there's anything you need to do to get these updated rates when mailing and shipping with Stamps.com? The good news is, you're all set! All postage printed through Stamps.com will reflect the new 2017 USPS rates. Our mailing and shipping solutions—both the software AND our Stamps.com Online web-based version—are designed to reflect current USPS pricing automatically, which means no service interruptions for you.
Here's a summary of the 2017 postage rate increase for Commercial Base (online postage) prices by mail class: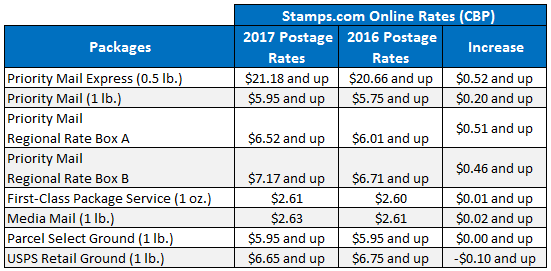 Get more info on the 2017 USPS postage rate increase.
January 16th, 2017
Comments off
Effective January 22, 2017, the U.S. Postal Service will implement new rates for domestic and international mail classes as well as its Special Services. Want to learn more about these changes and how they may impact your mailing and shipping? We've created a new guide for our customers detailing the USPS rate and service change for each mail class. This Postage Rate Increase Guide includes side-by-side rate comparisons so you know how much you'll pay on and after January 22, whether you pay retail rates or discounted Stamps.com rates. This guide also includes general shipping suggestions and a Frequently Asked Questions page to help answer any questions you might have about this rate increase.

This guide includes 2017 postage rates for:
First-Class Mail
Priority Mail Express
USPS Retail Ground
Medial Mail
Global Express Guaranteed
Priority Mail International
USPS Special Services
Get more info on the 2017 USPS postage rate increase.